Journal Infomation
Introduction
The predecessor of the journal, known as Acta Botanica Taiwania (ISSN:0065-1125), was founded in 1947 by National Taiwan University (NTU). Only one issue was published. In 1948, the name of the journal was changed to Taiwania, and published by the Department of Botany, NTU. The Journal was named after the Taiwania cryptomerioides Hayata, and originally published English-written papers on plant taxonomy and geobotany devoted to the floras of eastern Asia, Indo-Malaysia and the Western Pacific regions.
Since 1954, Taiwania was expanded to cover papers on all aspects of plant science. In 2003, the Departments of Botany and Zoology were integrated into the College of Life Science, and in the next year the journal Acta zoologica Taiwanica run by the Departments of Zoology was incorporated into Taiwania.
Since then the newly established Institute of Ecology and Evolutionary Biology has been commissioned to manage and publish the Journal, and the Journal has been sponsored and published by the College of Life Science. In response to the changes, the Journal expanded to publish papers on nearly all aspects of biodiversity contributing from all around the world. After over 70 years of publication, the "Taiwania" is now among the oldest English Journal in Taiwan and still in continous publication. Finally, the Editorial Team gratefully acknowledge financial support from the University. We would also like to thank National Science and Technology Council, R.O.C. for extra funding support.
ISSN: 0372-333X
Contact Us
Dr. Wen-Yuan Kao is a administrative editor-in-Chief in charge of official materials and Dr. Chang-Fu Hsieh as executive editor for publication. For any publicated information and technical question, please contact the editorial manager (Mr. Kuo-Hsiung Wang - Taiwania@ntu.edu.tw; Tel: +886-2-33662474; address: Taiwania Editorial Office, College of Life Science, National Taiwan University, No. 1, Section 4, Roosevelt Road, Taipei 106, Taiwan.).
Publication Fee
There are no page charges except for color printing (US$100 per page) and over 20 pages (US$10 per page) , which will be defrayed by the authors.
Current Issue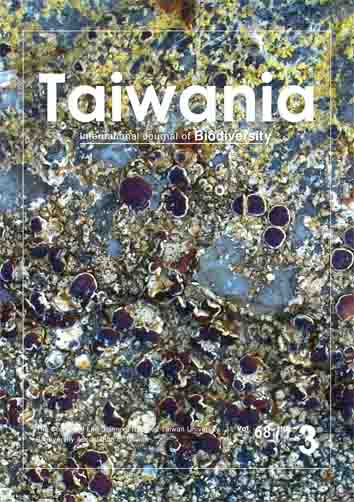 2023 Vol. 68 No. 3
Published on: 6 September 2023
Journal Resources
Journal Impact Factor is 0.9
5 years JIF = 0.8
Source: Clarivate 2023#JCR2023