News
Highlighted Student Research
New mutispored species of the lichen genus Lecanora from India with an updated world key - Taiwania Editorial Office recommends Mr. Ramesh Adhikar's achievements in lichen research.
Aims and Scope
Taiwania (ISSN: 0372-333X) is a peer-reviewed, open-access journal. Papers are published both online (at https://taiwania.ntu.edu.tw) and in the traditional printed format issued quarterly, with one volume per year. The Journal publishes original research articles, scientific notes, and invited or submitted reviews on all aspects of biodiversity, including taxonomy, phylogeny, morphology, genetics, ecology and evolutionary biology, at all levels of organization from molecular, organismal, community to ecosystem.
Taiwania has been indexed Science Citation Index Expanded (SCIE), BIOSIS PREVIEWS & Zoological Record (in Web of science); CABI; EBSCO; ProQuest; Ingenta;Scopus and Ulrich's Periodical Directories.
Interested in submitting to this journal? We recommend that you review the About the Journal page for the journal's section policies, as well as the Author Guidelines. Manuscript should be submitted electronically in Microsoft Word format to the Online Submission site (https://mc.manuscriptcentral.com/tai).
ISSN: 0372-333X
All updated news will be posted on our facebook
Recently Published
Online version of record published before inclusion in an issue
NOTE
A new name for Lysimachia sedoides W.B.Xu, C.Y.Zou & B.Pan (Primulaceae)
Ramalingam Kottaimuthu
Published on: 2023 September 06 Page: 383-383 DOI: 10.6165/tai.2023.68.383
Abstract
|
PDF Download
|
Literature Cited
RESEARCH PAPER
Aspidistra daqingshanensis (Asparagaceae), a new species from Guangxi, China
Yan-Lin Pan, Lun-Fa Guo, Xin-Gui Wang, Chun-Rui Lin
Published on: 2023 September 06 Page: 372-376 DOI: 10.6165/tai.2023.68.372
Abstract
|
PDF Download
|
Appendix
|
Literature Cited
NOTE
Synopsis of Camphora (Cinnamomeae, Lauraceae) of Taiwan, with two new combinations and one new synonym
Kuo-Fang Chung, Chia-Lun Hsieh
Published on: 2023 September 06 Page: 384-390 DOI: 10.6165/tai.2023.68.384
Abstract
|
PDF Download
|
Literature Cited
NOTE
The first report of brown root rot disease caused by Phellinus noxius on Reevesia formosana which raises concerns on the conservation of R. formosana and Formotosena seebohmi (Hemiptera: Cicadoidea) in Taiwan
Chuen-Hsu Fu, Wing-Yi Cheung
Published on: 2023 September 06 Page: 377-382 DOI: 10.6165/tai.2023.68.377
Abstract
|
PDF Download
|
Literature Cited
RESEARCH PAPER
Mitreola viridiflora (Loganiaceae), a new species from southern Yunnan, China
Cheng Liu, Shi-Wei Guo, Jin-Ping Zhang, Jie Cai
Published on: 2023 September 05 Page: 368-371 DOI: 10.6165/tai.2023.68.368
Abstract
|
PDF Download
|
Literature Cited
RESEARCH PAPER
Development of sclerotic and winged seeds of Cyrtosia septentrionalis (Rchb. f.) Garay and Erythrorchis altissima (Blume) Blume (Orchidaceae)
Goro Nishimura, Koichi Kaburagi, Yung I Lee, Tomohisa Yukawa
Published on: 2023 September 04 Page: 359-367 DOI: 10.6165/tai.2023.68.359
Abstract
|
PDF Download
|
Literature Cited
RESEARCH PAPER
Agapetes lihengiana (Ericaceae), a new species from Yunnan, China
Bin Yang, Li-Yan Wang, Ma-Mai Yue, Xing-Da Ma, Yong-Jing-Wen Yang, Jun-Na Ma, Qiang-Bang Gong, Yun-Juan Zuo, Yun-Hong Tan
Published on: 2023 September 03 Page: 355-358 DOI: 10.6165/tai.2023.68.355
Abstract
|
PDF Download
|
Appendix
|
Literature Cited
RESEARCH PAPER
Begonia barosma, a new species in Begonia sect. Coelocentrum (Begoniaceae) from limestone karsts across Sino-Vietnamese Border
Xin-Xin Feng, Yan-Man Chen, Jian-Xun Liu, Yu-Ni Huang, Zhi-Xian Liu, Ren-Kun Li, Tong Zhao, Wei Guo
Published on: 2023 September 02 Page: 349-354 DOI: 10.6165/tai.2023.68.349
Abstract
|
PDF Download
|
Appendix
|
Literature Cited
RESEARCH PAPER
Plant species and ecosystem diversity along national road in mountain sites: The case of Kennon Road in Cordillera Central Range, Philippines
Jones T. Napaldet
Published on: 2023 September 01 Page: 339-348 DOI: 10.6165/tai.2023.68.339
Abstract
|
PDF Download
|
Appendix
|
Literature Cited
RESEARCH PAPER
New multispored species of the lichen genus Lecanora from India with an updated world key
Rakesh Adhikari, Sanjeeva Nayaka, Roshinikumar Ngangom
Published on: 2023 August 25 Page: 327-338 DOI: 10.6165/tai.2023.68.327
Abstract
|
PDF Download
|
Literature Cited
RESEARCH PAPER
Isotrema cangyuanense, a new species of Aristolochiaceae from Yunnan, China
Xing-Da Ma, Wen-Guang Wang, Ji-Pu Shi, Jian-Yong Shen
Published on: 2023 August 24 Page: 323-326 DOI: 10.6165/tai.2023.68.323
Abstract
|
PDF Download
|
Literature Cited
RESEARCH PAPER
A new species of Sonerila (Melastomataceae) serendipitously discovered in Pasonanca Natural Park, Zamboanga City, Southwestern Philippines with notes on S. woodii
Mark Arcebal K. Naive, J. Peter Quakenbush
Published on: 2023 August 23 Page: 318-322 DOI: 10.6165/tai.2023.68.318
Abstract
|
PDF Download
|
Literature Cited
RESEARCH PAPER
Gastrochilus linzhiensis (Aeridinae, Vandeae, Epidendroideae, Orchidaceae), a new species from Xizang, China
Meng-Kai Li, Ying-Peng Yu, Peng-Yue Ma, Xue-Da Chen, Jian-Ping Deng, Qiang Liu, Yan Luo, Zhen Xing
Published on: 2023 August 02 Page: 314-317 DOI: 10.6165/tai.2023.68.314
Abstract
|
PDF Download
|
Literature Cited
RESEARCH PAPER
Potential of sweet potato (Ipomoea batatas (L.) Lam.) breeding populations evaluated based on expressed sequence tags-simple sequence repeats
Kuan-Hung Lin, Yu-Wen Chang, Yung-Chang Lai, Shih-Ying Hwang
Published on: 2023 July 26 Page: 303-313 DOI: 10.6165/tai.2023.68.303
Abstract
|
PDF Download
|
Appendix
|
Literature Cited
Current Issue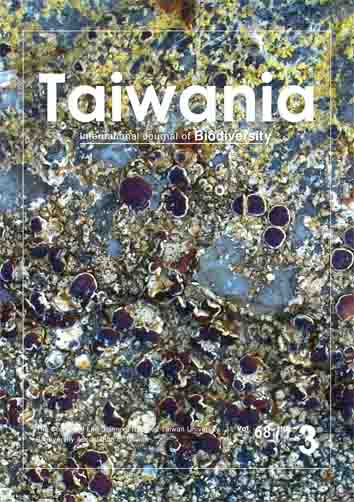 2023 Vol. 68 No. 3
Published on: 6 September 2023
Journal Resources
Journal Impact Factor is 0.9
5 years JIF = 0.8
Source: Clarivate 2023#JCR2023