Subscribe
Taiwania, as a fully open access journal, welcome all academic website to set up the linkage our website: https://taiwania.ntu.edu.tw/index.php. We offer limited hardcopy for institution and personal use, please contact us.
For International Order
Print copies are available and delivered by economic airmail worldwide. An invoice will be sent once the order has been confirmed. The prices for annual current issue will be 300 USD and 150 USD for past years (only limited offer). As to colored images, colored print copies are only available if the author wants to, otherwise, it is in black and white. Payment by business check, personal check or bank check in US$ to Biodiversity Association of Taiwan; e-mail us (taiwania@ntu.edu.tw) for details on payment by bank transfer or in other currencies (e.g. EUR, GBP, AUD). Electronic payment (e-payment) are accepted for orders from most countries (please ask for exceptions). Order or request for invoice by e-mail is preferred. Please supply mailing/billing address, e-mail address, and purchase order number.
Standard orders require 2–3 weeks from order confirmation to delivery.
For Local Customer
The Journal presentation copies are available in NTU Press bookstore. You can contact National Taiwan University Press and ask for good price.
TEL:886+2+3366-3993, 886+2+2365-9286, FAX:886+2+2363-6905
http://www.press.ntu.edu.tw, email: ntuprs@ntu.edu.tw

For Journal exchange
We encourage research librarians to list this journal among their library's electronic journal holdings. Our website is https://taiwania.ntu.edu.tw/index.php
Taiwania is able to exchange for any publication related to Life science or Biodiversity. If you are interested in receiving the hard prints, please send the following information to taiwania@ntu.edu.tw
Name of contact person
Email
Affiliation (Name, address, website)
Mailing address (in detail)
Title of publication for exchange
ISSN/ISBN of exchange publication
Current Issue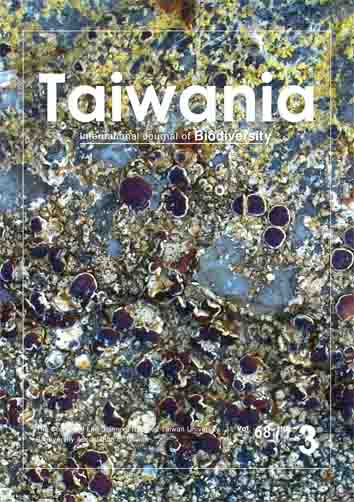 2023 Vol. 68 No. 3
Published on: 6 September 2023
Journal Resources
Journal Impact Factor is 0.9
5 years JIF = 0.8
Source: Clarivate 2023#JCR2023