Journal Infomation
Introduction
Acta Botanica Taiwanica (ISSN:0065-1125) was published in October 1947 as one of Science Reports of the National Taiwan University (NTU). In May 1948, Taiwania also lauched out by the Laboratory of Systematic Botany, Department of Botany, College of Science, NTU and is a journal of plant taxonomy and geobotany devoted to the floras of eastern Asia, Indo-Malaysia, the Western Pacific regions. Dr. Li, Hui-Lin is the chief editor. Years later, the new Editorial Board was leaded by Dr. Lee, S.C. who combined two journals to Taiwania and focus to all aspect of Plant Science. Because Acta zoologica Taiwanica (ISSN:1019-5858) is no longer being published in College of Life Science, Taiwania extended the study field of Zoology. Now Taiwania published regular quarterly and is the oldest English journal in Taiwan.
Taiwania
is indexed
Science Citation Index Expanded, BIOSIS PREVIEWS & Zoological Record (in Web of science)
; CAB Abstracts;
Directory of Open Access Journal (DOAJ)
;
Scopus
and
Ulrich's Periodical Directories
.
Taiwania
has been honored to be the recipient of the Excellent Academic Journal Award from the National Science Council since 1996.
ISSN: 0372-333X
Contact Us
Dr. Wen-Yuan Kao is a administrative editor-in-Chief in charge of official materials and Dr. Chang-Fu Hsieh as executive editor for publication. For any publicated information and technical question, please contact the editorial manager (Mr. Kuo-Hsiung Wang - Taiwania@ntu.edu.tw; Tel: +886-2-33662474; address: Taiwania Editorial Office, College of Life Science, National Taiwan University, No. 1, Section 4, Roosevelt Road, Taipei 106, Taiwan.).
Publication Fee
There are no page charges except for color printing (US$100 per page) and over 20 pages (US$10 per page) , which will be defrayed by the authors.
Current Issue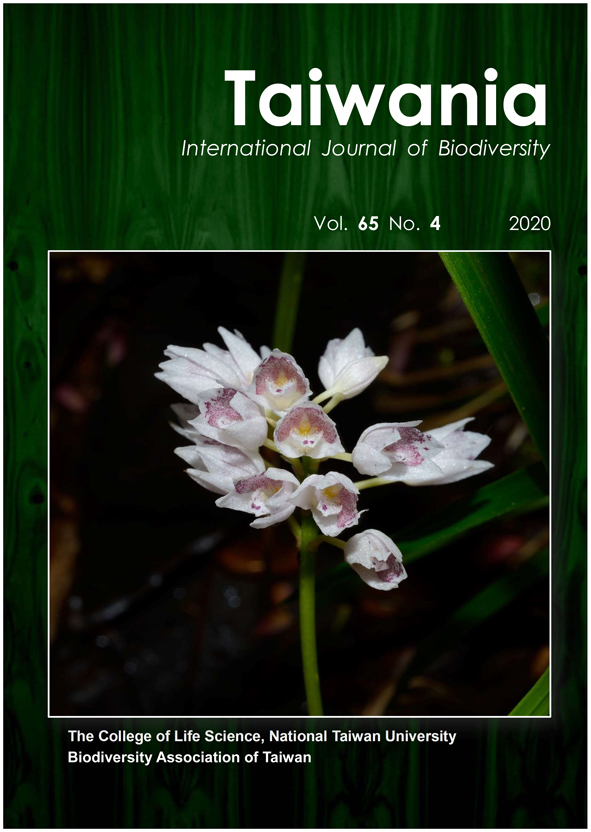 Vol. 65 No. 4 2020
Published on : 15 November 2020
Announcement
Journal Resources
Impact Factor: 0.647 (2019)

ISI Journal Citation Reports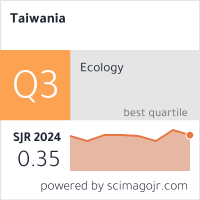 Master's Program